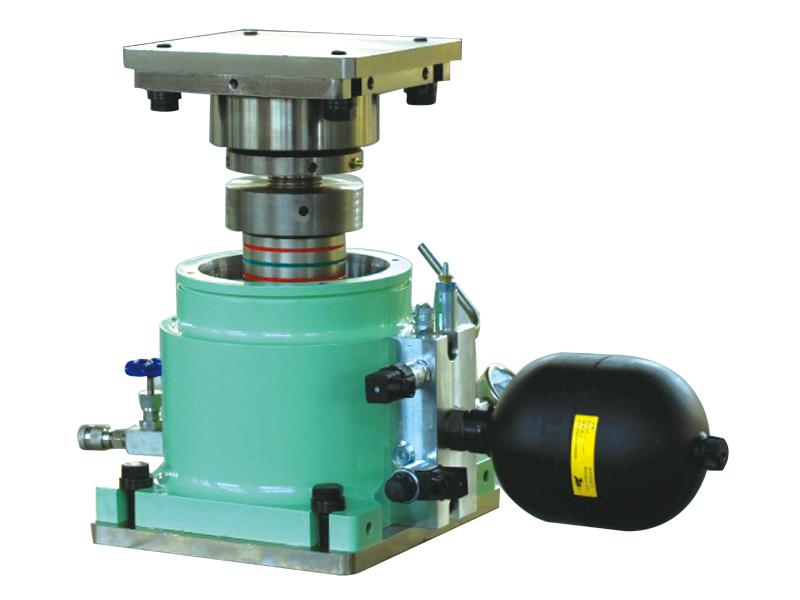 Standalone Hydraulic Top Bracing System
Application
Standalone hydraulic top bracing systems are used primarily in MAN and B&W marine power plants.
Parameters
The nominal diameter of hydraulic cylinder
200mm
Nominal force
22kN
Max. force, low pressure version (26bar)
82kN
For engine with bore ≤600mm
Max. force, high pressure version (40bar)
126kN
For engine with bore>600mm
Power source
24V DC
Features
The standalone hydraulic top bracing system consists of a hydraulic accumulator, a hydraulic control unit, a hydraulic cylinder unit, an electric control box and a set of mounting flanges.
It is installed between the engine and the hull of the ship in order to reduce vibration frequency caused by the engine. It is similar to a rigid structure tension device, however, unlike the rigid structure tension device, a hydraulic top bracing system is flexible and can easily handle both the longitudinal and lateral displacement caused by temperature and loading changes. This makes the top bracing system more reliable and safer than a rigid support structure (friction plate).
Standalone type top bracing systems replace power pump stations with hydraulic control units for an easier installation and maintenance when compared to a traditional hydraulic top bracing system.
The top bracing system consists of two, four or six top bracing cylinders, depending on engine size and cylinder number.
Installation
The standalone hydraulic top bracing system is installed on the starboard side of the engine (exhaust side), but portside installation (camshaft side) is available if required. Installation is only necessary on one side.
Index
marine engine bracing unit, marine parts